"Osasuna" prefers to act on the opponent's mistakes and rely on his strong defense. In terms of the number of expected goals conceded (xga = 1.03), it ranks in the strongest quartet in the Example. However, the Reds pay for this with low offensive potential (xg = 1.03 – 5th from bottom).
The form of the team's game leaves a lot to be desired lately. According to the result, it lost only to such top teams as Real Madrid (0:2) and Atlético Madrid (0:1). However, according to the metric of expected goals on the pitch, it looked worse than Elche (0.5: 1.2) or Valladolid (0.7: 1.5).

Celta, in turn, gained a great move and is not inferior to the opponents in terms of xg. In this component, we even managed to overtake Atlético Madrid symbolically (1.1:1.0).

Only against Betis (1.9:3.4), which triumphs in the Champions League this season, the Celts couldn't stand xg.
It is worth emphasizing several components of such success at the same time. Firstly, when Carlos Carvalhal took over as head coach, the club clearly strengthened in front of its gates. Under him, Celta allows an average of 0.87xg per match, with a craft of 1.68xg. Secondly, the young attacking midfielder Gabri Veiga (8+3) is in great shape.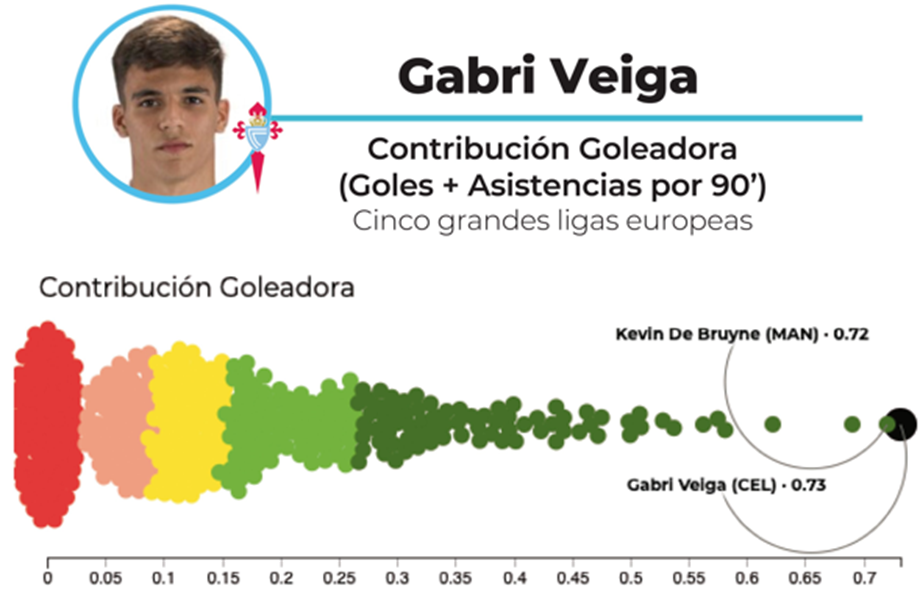 In terms of contribution to offensive actions in 90 minutes, he even surpassed Kevin De Bruyne and is currently the best in Europe. In addition, the experienced Haris Seferovic joined the team, who already scored a goal in the 152nd minute.
Teams arrive in a completely different functional readiness for this meeting. In the match of the first round, which was Carvalhal's debut, Celta lost on points to the current opponent, but hardly deserved xg (xg: 0.7: 0.4).
In these circumstances, the guests will be much closer to victory.