Pari NN finished the autumn part of the championship on the 12th position in the table with 19 points after 17 rounds. During the winter break, there were staff changes at the club as the first coach. Mikhail Galaktionov was replaced by Artem Gorlov, who previously worked in the Yenisei.
The debut match of the new coach took place in the 1/8 finals of the Russian Cup against the St. Petersburg Zvezda (2:0). However, things are not going well for Nizhny Novgorod in RPL. In the first game after the resumption of the season, they lost without a chance to Zenit (0:3), and in the final round they lost to Rostov (1:2) in the final round.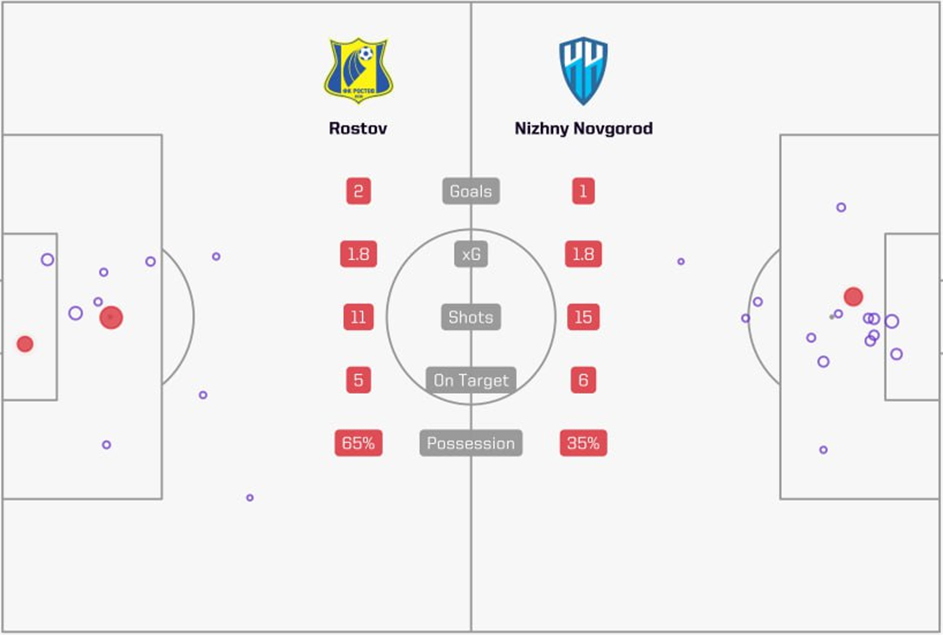 "Rostov" after resuming the season hardly achieves a positive result. In the first official matches, the team lost to Urals (1:1, 1:2) on aggregate, which resulted in relegation to the stage of the Path of Regions of the Russian Cup from the RPL Path.
In the first match after a long break in the championship, the yellow and blue defeated Lokomotiv (1:3). It was only in the final round that Valery Karpin's team managed to break the black streak with a victory over Pari NN (2:1). This was achieved in large part due to the prescribed penalty.
On average, Rostov generates 1.43 xg per game, with 1.54 xg allowed.
Coach Pari NN announced a deep rotation in the team due to the difficult position in the championship. I think that Rostov, gradually advancing after the break, is able to take advantage of the situation and move on to the next stage of the tournament.